Caleb Teicher & Company (CT&Co), founded in 2015 by acclaimed dancer/choreographer Caleb Teicher, seeks to expand the capacity of America's rich music and dance traditions through innovative choreography, performance, and contextualization. Utilizing Tap Dance, Vernacular Jazz, Lindy Hop, and a mix of other dance styles born and bred in America, the company's work reflects a collective conscience within modern American culture.
Whether tap dancing with a live beatboxer or to Bach's Goldberg Variations, swing dancing to Ella Fitzgerald's famous recordings or to a new contemporary score by pianist Conrad Tao, audiences have warmed to CT&Co's unique style of theatricality, humor, emotional expression, and aesthetic exploration.
Past engagements include Guggenheim Museum (NYC and Bilbao), the Kennedy Center (with National Symphony Orchestra), The Joyce Theater, Fall For Dance @ New York City Center, Annenberg Center Live, PS21 Chatham, Jacob's Pillow Dance Festival's Inside/Out Series, UNCW, ADF @ DanceCleveland, Gibney Dance, Queens College, The Yard on Martha's Vineyard, LaMaMa Experimental Theater Club, and the American Tap Dance Foundation, amongst others.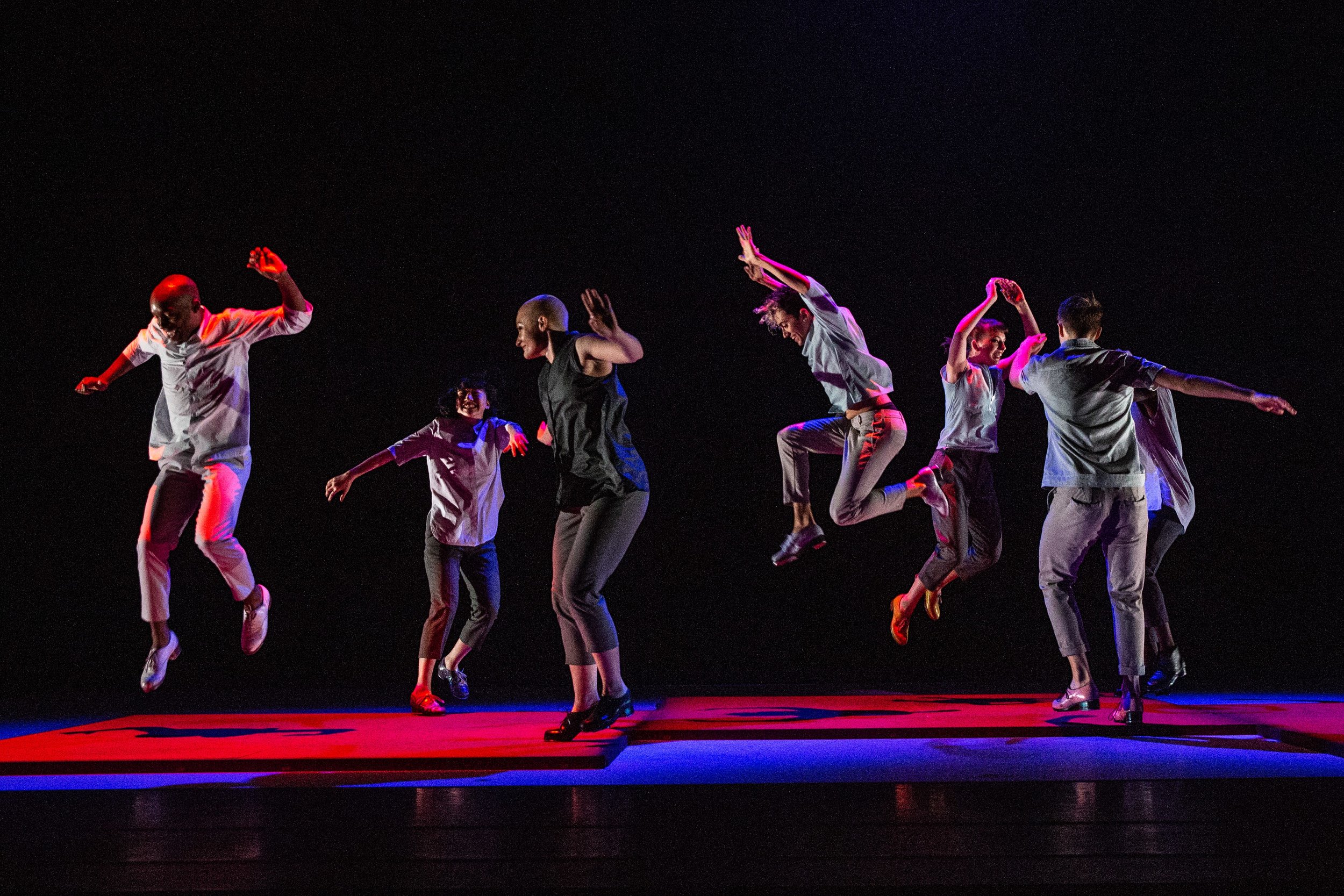 CT&CO SWING
@ THE GUGGENHEIM BILBAO (BILBAO, SPAIN)
August 21-22, 2019
CT&Co swing dances at the Guggenheim in Bilbao!
CT
@ SOUTHERN METHODIST UNIVERSITY (DALLAS, TX)
August 29 - September 12, 2019
Caleb sets work on SMU's Meadows Dance Ensemble!
CALEB TEICHER
@ ASBURY PARK DANCE FESTIVAL
September 14, 2019
Caleb performs Great Heights!
>> LEARN MORE <<
CALEB TEICHER & NIC GAREISS
@ RIVER ARTS (IRVINGTON, NY)
September 20, 2019
Caleb & Nic perform their duo show!
>> LEARN MORE <<
CT&CO
@ NEW YORK CITY CENTER FALL FOR DANCE
October 1-2, 2019
CT&Co returns to Fall For Dance to premiere an extended Bzzzz!
>> LEARN MORE <<
CT&CO
@ WHITE BIRD (PORTLAND, OR)
October 17-19, 2019
CT&Co performs Variations, Meet Ella, and Small & Tall!
>> LEARN MORE <<
CT
@ MICHIGAN STATE UNIVERSITY (EAST LANSING, MI)
October 28 - November 1, 2019
Caleb in residence at MSU!
CT&CO
@ 92Y DISCOVER DANCE
December 5, 2019
CT&Co performs Meet Ella and a set with beatboxer Chris Celiz!
>> LEARN MORE <<
SWING DANCING
@ GUGGENHEIM WORKS & PROCESS ROTUNDA PARTY
December 9, 2019
Swing Dancing with Caleb Teicher, Ben Folds, & Eyal Vilner Big Band!
>> LEARN MORE <<
CT&CO
@ CELEBRITY SERIES
(BOSTON, MA)
January 30-February 1, 2020
CT&Co performs More Forever at Celebrity Series in Boston, MA!
>> LEARN MORE <<
CT&CO
@ SEGERSTROM CONCERT HALL
(COSTA MESA, CA)
February 12, 2020
CT&Co performs More Forever at Segerstrom Concert Hall in Costa Mesa, California through the Philharmonic Society of Orange County!
>> LEARN MORE <<
CALEB TEICHER & CONRAD TAO
@ PRINCETON UNIVERSITY (PRINCETON, NJ)
April 7, 2020
Caleb and Conrad perform a duo show!
>> LEARN MORE <<
Administrative Staff
Artistic Director: Caleb Teicher
Company Manager: Aria Roach
Online Media Consultant: Allison Hope Munson